Sunday World is a showcase series at Cafe Sør for performers of international traditional and popular music.
Sunday World er en konsertserie i samarbeid med Cafe Sør i Oslo. Konsertserien ble startet våren 2015, og har siden blitt viktig for musikere både i og utenfor Oslo. På utvalgte søndager gjennom året presenteres ny og spennende musikk innen internasjonal tradisjons- og populærmusikk, fremført av musikere med sjangerbakgrunn fra ulike deler av verden.
Konsertene finner sted i forkant av den tradisjonelle søndagsjammen på Cafe Sør med husbandet Shady Collective, som har et etablert publikum bestående av både musikere, kunstnere, studenter og musikkinteresserte. Søndagsjammen er en verdifull arena for nettverksbygging, eksponering og etablering av nye samarbeid. Ved å legge konserten i forkant av jammen, bidrar Sunday World til at både ny- og veletablerte musikere får konserterfaring og vist fram sine prosjekt for et nytt publikum. 
Due to Covid-19, the planned Sunday World concerts for 2020 was changed into Samspill Sessions in collaboration with Ballade.no. Instead of playing concerts, we produced live recordings of the artists' selected songs. The recordings are available on Samspills YouTube-kanal and at Ballade. Watch the artists that performed here
Since 2021, we have involved members of Samspill in the production of Sunday World, and every new season we engage one member as a producer. These are people who seek more competence and work experience in the role as a producer, and who already have a solid network and an active musical career. We do this to give room for and to lift tomorrow's organisers and producers, at the same time as we reach out to new and exciting musicians and give them a stage. Sunday World is thus a showcase arena both for, with and by Samspill members.
Produsent – Sunday World høst 2021
Produsent – Sunday World vår 2022
Produsent – Sunday World høst 2022
Produsent – Sunday World vår 2023
Produsent – Sunday World høst 2023
Listen to Sunday World on Spotify!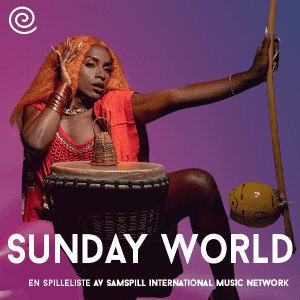 Artists that have performed at Sunday World
2023
2022
2021
2020
2019
2018
2017
2016
2023
Sudeshna Bhattacharya
Issa & Anija
Dopey Monkey
Udi Shlomo
Ecetera band
Ragascape
Laura Alvarez
Puma Camillê & Eduardo Scaramuzza
Ana Lu y Valerio
Tural Raphael & Espen Wensaas
Monoswezi
Michael Krumins
Tres Musicos
2022
2021
2020
2019
2018
2017
2016